Relationships Hold the Key to Success
Exceeding Expectations
Benefit Harbor's unique combination of proprietary technology, team dedication and industry knowledge helps employers to create optimal benefit portfolios that meet the needs of their employees.
Engaging Digital Experience
The modern and intuitive self-service platform provides an engaging interface designed to educate and support a personalized benefit experience for each individual.
Intuitive, Easy-to-use Platform
Recently redesigned, based on months of industry leader and end user interviews, the Benefit Harbor platform was thoughtfully designed for an appealing process that surfaces all of the most meaningful information to support decision making.
Case Study: Intuitive, Interactive Enrollment
Challenge
Online self-service benefits enrollment delivers the convenience and consumer-centric experience at work that today's employees demand — along with the administrative efficiency and speed employers need. It's crucial that all of your data be managed safely and securely, and all data migration be seamless and accurate.
Solution
Benefit Harbor supports the full breadth of employee benefits enrollment. Benefit Harbor's benefits enrollment and eligibility services are built to support:
New-hire, annual, and ongoing enrollment, throughout the employee life cycle
Core health and welfare benefits enrollment and administration
Enrollment for account-based plans: FSAs, HRAs, and HSAs
Enrollment and participation in voluntary worksite plans, including universal life, critical illness, accident, and many others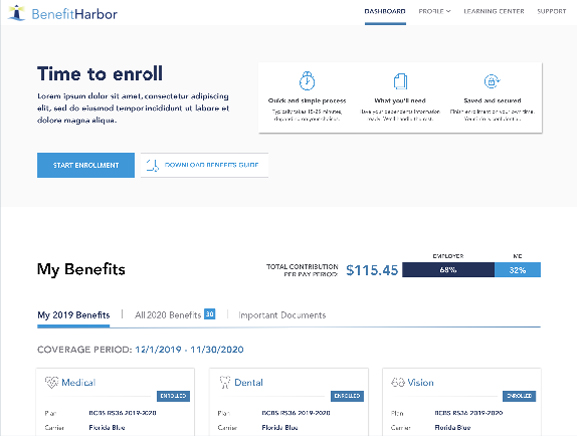 Results
15-20 minutes enrollment processing time, down from a full day
70% average cost savings on new hire enrollment
23% increase in enrollment participation
Jennifer Daniel, Aflac Broker Channel
Benefit Harbor is one of our Premier Technology Partners for many reasons. Their platform can accurately handle complexities, which in our business is very important. Our mutual clients truly appreciate the best in class service and support they receive. We value their insights, ideas and willingness to create win-win situations.
Jennifer Daniel
VP Premier Technology Partnerships, Aflac
Richard Johnson
Benefit Harbor has a unique combination of experience, tenacity, and knowledge, creating the optimal benefit portfolio for all our employees.